EDINBURGH HOSTELS are experienced Group Booking Specialists. We are a full service company and deal with around 1000 groups each year. Whether you require airport transfers, packed lunches, meals, tours or hostel accommodation in a specific area of Edinburgh. Just let us know your requirements and our team will make it happen.
We only deal with with the very best service providers in Edinburgh to ensure that your trip goes as exactly as expected and there are no surprises when you get to Edinburgh.
We deal with groups of all types. Whether you are a student group, sports group, Stag or Hen Party or just a bunch of friends having a getaway. All of our staff are from Edinburgh and we know all the best accommodations, activities, places to visit and the best things to see and do.
Tell us the size and type of your group, and any specific hostels you are interested in. Then let us do the rest. We will check availability at the hostels and apartments most suitable for your group type and email you back some great offers within 24 hours.
TRIED AND TESTED HOSTELS
All of our Hostels, apartments, Backpackers, Hostel Apartments and Hotels are tried, tested and quality assured. Our staff are all born and bred in Edinburgh and we know where its happening and where you need to be. We only ever deal with very best accommodations to ensure that your big weekend goes without a hitch. Book with Edinburgh Hostels with confidence and we guarantee to make your trip one that will be remembered for all time.
21st CENTURY HOSTEL ACCOMMODATION
The demands and expectations of the modern day traveller has changed significantly in recent years. As a result some new types of budget accommodation, such as hostel apartments, are now available in Edinburgh. The level of facilities now being provided to budget travellers has greatly improved across all levels of budget accommodation.
Edinburgh Hostels now has accommodation in the following catergories. Hostels, Hostel Apartments, Backpackers, Private Apartments and Studios.
HOSTELS & BACKPACKERS
Hostels and Backpackers are now trendy, bright, clean fun places to stay. They are suitable for individual travellers hoping to meet some new friends and younger groups of all kinds. Minimum facilities you can expect at a hostel are bedding, Internet, Hot Showers, Kitchen Facilities, Lounge area, Group Rooms with bunk beds and Small private Double, Twin and Triple Rooms.
HOSTEL APARTMENTS
Hostel Apartments like St James Craig Court are suitable for Individual travellers and larger groups of 10-160 persons. Most Hostel Apartments are available from June - September. Hostel apartments are self catering and do not have bunk beds like hostels. They offer Double, Twin and Single Rooms. Each Hostel apartment also has a lounge area, Fully Fitted Kitchen, Bathroom and shower. The bedrooms can have an en suite or shared bathroom and are lockable. Groups can book entire clusters of adjoining Hostel apartments to avoid sharing with any other persons. Alternatively a couple could simply book a lockable bedroom and share the facilities with other travellers.
PRIVATE APARTMENTS
Private Apartments like City Centre are suitable for groups of 4-16. You get a private apartment with Bathroom, Bedrooms, kitchen area with lounge. Your group has exclsive use of all facilities.
We have around 500 apartments of all shapes and sizes in Edinburgh. Whether you are looking for a Castle view or something in the heart of the City Check out our Apartment Finder Service
PRIVATE STUDIOS
Private studios are available at a number of our seasonal properties like St James Craig Court and Beaverbank. Studios are for 1/2 persons. You get exclusive use of the a private studio with bed, fitted kitchen and bathroom. None of the facilities are shared.

EDINBURGH ON A BUDGET - If you are visiting Edinburgh you don't need to break the bank to have a good time. Many of Edinburgh's best attractions are cheap or even free. Here are Edinburgh Hostels top 5 of things to see and do in Edinburgh:
CLIMB ARTHURS SEAT
Arthurs seat is Edinburgh's spectacular 360 million years old dormant volcano. Take the easy 1 hour hike up to the volcano's summit and enjoy breathtaking views of Edinburgh's Skyline, Castle and Firth of Forth. This is an exhilarating experience that you will never forget.
From the Scottish Parliament take the Volunteer's Walk past Hunter's Bog. Eventually you'll reach the end of the Hike at Salisbury Crags, This vantage point looks right out over the magnificent Edinburgh Skyline so get ready for some incredible awe inspiring photographs. If you want to go all the way to the summit turn left onto the Piper's Walk path, and take a short uphill hike up to the volcano's summit.
VISIT EDINBURGH's ROYAL MILE
The Royal Mile is Edinburgh's and Scotland's most famous Street. At one end there is Holyrood Palace, the Queen's Scottish Residence in Scotland and at the other end you will find the magnificent St Giles Cathedral. After checking out the Palace and some of the unique shops. Head to the Tron Kirk and take a FREE Sandimans 3 hour walking tour. The tour will take you through the cobbled backstreets and alleys of historic Edinburgh. You will learn about Greyfriars Bobby, Maggie Dickson, Burke and Hare, the birthplace of Harry Potter and Edinburgh's sordid history. The Walking Tour Departs from the Tron Kirk in the High Street at 11am and 1pm Daily.
VISIT EDINBURGH CASTLE
Edinburgh Castle is Scotland's number one tourist attraction. Not only will you get some amazing pictures of the castle and esplanade but there is tons of things to see and do. Try and get there before 1pm and experience the firing of famous the '1 O'clock Gun'. The entrance fee (Adult £16.00, Concession £12.80, Child £9.60) includes admission to all of the walking tours, museums, dungeons and Scottish Crown jewels. Check out the Great Hall where Kings and Queens came to feast and St Margaret's Chapel which is the castle's oldest surviving structure.
TAKE A HIKE UP CALTON HILL
Visit Calton Hill and Enjoy fantastic views of Edinburgh City, Edinburgh Castle and Firth of Forth. Check out a number of great monuments such as 'Edinburgh's disgrace', the unfinished National Monument which was built to remember casualties of the Napoleonic war. There are also monuments for Nelson, Duguld Stewart, Rabbie Burns, The Political Martyr's and a burial site.
VISIT EDINBURGH's FREE MUSEUMS & ART GALLERIES
In Edinburgh the museums and Art Galleries offer free entry. Check out the Museum of Edinburgh which exhibits the true story of Greyfriars Bobby. The National Museum of Scotland where you can explore the diversity and development of the natural world as well as Scotland's complete History. The Writers Museum which includes the history of Rabbie Burns. The Museum of Childhood where young people can learn about the children of the past and see a fantastic range of toys and games, while adults enjoy a trip down memory lane. The National Art Gallery and National Gallery of Modern art which display Scotland's top art collections.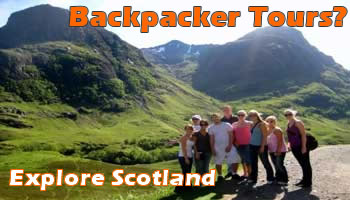 Explore historic Scotland, Its castles, ruins and incredible scenery on one of our small friendly backpacker tours. Our Tours depart from Edinburgh and last from 2 - 9 nights. We have a flexible schedule to make sure you get what you need from the trip so if you want a little bit of extra time to find Nessie at Loch Ness we can arrange that. During our tours we will take you offtrack to visit some of Scotland's Hidden gems.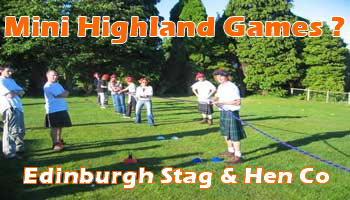 EDINBURGH STAG & HEN WEEKENDS
Want to get away from it all for your stag or hen do but prefer not to have the hassle of heading abroad? Then why not entertain the idea of Edinburgh as a destination for your pre-wedding do.
Edinburgh is easily accessible by road, rail and air – with mny cheap flights to Edinburgh on offer from across the UK, this ancient city is perfect blend of contemporary culture and time honoured tradition as well as having excellent access to Scotland's great outdoors - meaning the area is an exciting option for fans of adventure.
A stag or hen do in the city of Edinburgh can be tailored to suit any taste with something on offer for everyone, from the pre-wedding party animals to people who prefer an action packed adventure or those seeking a location to relax and recharge in advance of their big day.